f r a m e d o r i g i n a l p h o t o g r a p h s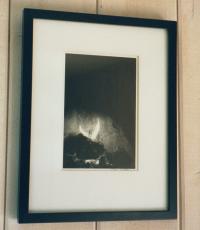 custom printed and signed by the artist, these black and white, silver gelatin prints are matted and framed in a standard 11" x 14" size (like the one pictured here). archival quality processes are used throughout. series·one prints are catalogued.

the paper : Kodak Polymax 8" x 10" variable contrast fiber-based double weight F glossy. the exact image size depends upon the photograph, however, it is typically about 5½" x 8¼". other sizes are available upon request.

the mat : a 4-ply, archival quality, single layer in coordinating "white" (no lighter than the lightest white in the work) hinged with tape to a foam core back where the print is positioned into photo corners.

the frame : black wood (blonde or walnut, upon request) with regular glass.

purchasing prints : Currently unavailable (see our catalog for notecard orders).
8" x 10" photo enlargements (for 11" x 14" frame size) :
matted: $900 + s&h
framed & matted: $1150 + s&h

6.25% tax added for New Mexico customers.

shipping & handling : the time required to print a photo depends largely upon the image and the effect. we typically ship in three months, though tighter schedules can often be accomodated. prices may vary accordingly.